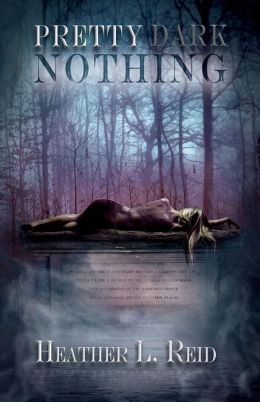 Seventeen-year-old Quinn hadn't slept a full night in twenty-three days. She's terrified of the demons that stalk her dreams, pull her into a deep dark nothingness and whisper hauntingly of her death. Exhausted, Quinn dozes off in the school hallway, and Aaron, an amnesiac with a psychic ability, accidentally enters her nightmare. If Quinn can learn to trust her heart, and Aaron can discover the secret locked away in his fragile memory, their combined power could banish the darkness back to the underworld for good. That is, unless the demons kill them first.
I'm so lucky to have Heather Reid on the blog today because it's her RELEASE DAY!!! PRETTY DARK NOTHING has officially hit the shelves!!
ALR: Heather, thank you so much for being here. I don't usually do this, but I have to begin with the cover. Absolutely breathtaking. Was it what you envisioned for PRETTY DARK NOTHING?
ALR: Can you tell us anything about PRETTY DARK NOTHING that isn't in the blurb?
HLR
: Pretty Dark Nothing
is full of demons, and I don't mean the hot fallen angel, bad boy types. These demons are the evil, hairy, sulphurous kind, bent on manipulating and destroying Quinn's life. Throw in some romantic sparks with a psychic amnesic, an ex-boyfriend she can't quite get over, and suspension from the cheerleading squad for failing grades, all while the demons are pushing her to the brink of madness, and I hope it's a recipe for something darkly paranormal and not quite typical.
ALR: My type of recipe. What was your inspiration for the novel?
HLR: I think the spark of inspiration for Pretty Dark Nothing has been brewing my whole life. As a child, I suffered from night terrors and sleep walking. Although I eventually grew out of the sleep walking, the nightmares never went away. I would dream of faceless entities and demons on a reoccurring basis. I spent my pre-teen years trying to rationalize my fear while I spent my nights huddled under my covers with a book and a flash light afraid to fall asleep for fear of what would greet me in my dreams. I kept this a secret from my friends and afraid of what they would think. The dark torture of my imagination lasted through three years of middle school and finally faded. I still don't think my mother knows how terrified I was of falling asleep, and I have no idea why the nightmares stopped, maybe they were my way of coping with the stress of adolescence. I don't know.
When I reached college, I went through a particularly bad time in my life, suffered from depression, illness and the nightmares returned. I wasn't frightened like I was when I was young; I recognized them for what they were. We all have inner demons we battle, those voices that tell us we're not good enough, taunt us, paralyze us with fear. That's when the idea for a novel started to form. I asked myself what would happen if those negative voices, those inner demons, weren't imagined. What would happen if they were real, and they started to manifest outside the dream world? What if they influenced things around us, and what if you were the only one that could see them? That's when Quinn and the idea for Pretty Dark Nothing were born. I didn't start writing Pretty Dark Nothing right away. I did some character sketches and jotted down some notes, while I spent the next several years writing short stories and articles. But Quinn's story wouldn't let me go. When I finally decided to give my full attention to her, she blew me away. Quinn and I battled the demons that tortured her together, and in the process, she taught me how to battle my own.
ALR: Can you tell us a bit about the road to publication?
HLR: At the age of four, I started dictating stories to my mother, who would illustrate them for me. By the age of nine, I was writing plays for friends and binding my own picture books with cardboard and string.

At eleven, I tried my hand at a first novel. (No, you can't read it. It's buried in a deep dark hole somewhere in the Tasmanian Outback and guarded by a three-headed dingo.)
ALR: HAHA!
It was then that I told my parents I wanted to be published by the age of sixteen. I also told them I wanted to be Wonder Woman, a Dallas Cowboy cheerleader, a Broadway star, and an archaeologist. Those dreams faded. I never did get that invisible jet, and I would be a lot older than sixteen before I got a publishing deal, but the dream of being a writer stayed with me. After college I decided to stop dreaming and start getting serious. I joined the Society of Children's Book Writers and Illustrators, joined a writer's group, read books on writing, went to conferences, workshops, and most importantly, I started writing every day. Some of it was crap. Ok, at first, a lot of it was crap, but writing takes work. After over twelve years of studying, writing, and querying, my first young adult novel,

Pretty Dark Nothing

, sold in a two book deal to Month9Books. It's been an amazing journey, and I'm still learning.
ALR: I've been waiting (not so) patiently for April 23rd to finally arrive. How do you plan to celebrate your release day?
HLR: I'm going to the Cheesecake Factory with my family to celebrate.
ALR: What projects are you working on now?
HLR: I'm working on the sequel to Pretty Dark Nothing, along with another YA and a dark fantasy trilogy for the adult market. I have

so many ideas running around in my head that I wonder if I'll ever get around to getting them all on paper.
ALR: Since your debut is YA, what books inspired you as a teen?
HLR: A Wrinkle In Time by Madeline L Engle was a huge inspiration. (ALR's eyes fondly drift over to A Wrinkle In Time, sitting five feet away on her shelf.)
I also loved Christopher Pike Novels, VC Andrews, and Jean M Auel. I also read a lot of 'true' ghost stories and books about haunted places. Oh, and let's not forget Tolkien.
ALR: We would get along marvelously. Okay, now for some random questions...
If you could meet one book character, who would you choose?
HLR: Mr. Darcy
ALR: What's your kryptonite?
HLR: Ice Cream
ALR: One thing you can't live without?
HLR: My Kindle
ALR: Complete the sentence: Writing is...
HLR: ...some days it's like walking naked through a thorn bush. Other days it's like

getting a new puppy and winning a lifetime supply of chocolate at the same time.
ALR: Complete the sentence: Reading is...
HLR: ...the best way to see the world, both real and imagined.
Well said.
Heather, thank you so much for taking the time to swing by the blog! Best of luck, and congratulations!!!
Heather L. Reid is both American and British and has called six different cities in three different countries, home. Her strong sense of wanderlust and craving for a new adventure mean you might find her wandering the moors of her beloved Scotland, exploring haunted castles, or hiking through a magical forest in search of fairies and sprites. When she's not venturing into the unknown in her real life, she loves getting lost in the worlds of video games or curling up by the fire with good story. For now, this native Texan is back in the Lone Star State, settling down with her Scottish husband and dreaming up new novels to write.
You can visit Heather's
website
or blog or find her online via
Twitter
,
Goodreads
, and
Facebook
.
ABOUT MONTH9BOOKS:
Month 9 Books

is a publisher of speculative fiction for teens and tweens… where nothing is as it seems. Month9Books will donate proceeds from each of its annual charity anthologies to a deserving charity. Individually, authors may donate his or her advances and royalties to a charitable organization. Month9Books will also release 10-12 non-charitable titles annually.

GABRIEL STONE AND THE DIVINITY OF VALTA

is Month9Books's first Middle Grade release. Month9Books is distributed by Small Press United, a division of IPG. You may visit
www.month9books.com
for more information.
WANT A FREE COPY OF PRETTY DARK NOTHING?? ENTER BELOW FOR A CHANCE TO WIN!
a Rafflecopter giveaway